Rainey Williams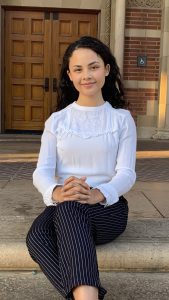 Hi! My name is Rainey Williams and I am a second-year Linguistics and Computer Science major here at UCLA. I'm interested in language acquisition, sociolinguistics, and computational linguistics. In my free time I like to draw, watch documentaries, and explore LA with my friends!
Dianely Mendoza
HI! My name is Dianely Mendoza, and I'm a 2nd year Applied Linguistics major. My research interests revolves around language development within children, and it has prompted me to pursue a career in Speech Pathology. After my time here at UCLA, I plan on continuing my education towards Speech Pathology to become a certified SLP. Aside from school, I like to stay active through running and paddling with my Dragon Boat team. I also carry a big passion for food and learning new languages, and I'm hoping to explore more of these hobbies by traveling to as many countries as possible.
Maria Paulino
Hello! My name is Maria Paulino, and I am a second-year Physiological Science major at UCLA. I am interested in language acquisition and developmental cognitive neuroscience. In my free time I love watching foreign Netflix originals, walking on the beach, and wandering around Trader Joe's with my friends. I am also a dancer and a freelance digital artist. A dream of mine is to live abroad in Italy for a time and immerse myself in the language and culture!
Crystal Moon
My name is Crystal Moon and I graduated UCLA with a degree in Linguistics and Computer Science in 2018. I love all things in relation to language and phonetics, and I'm currently hoping to pursue further research in the graduate level. I'm also an enthusiast about translation and localization, and love discussing it in regards to cultural exchange!
Yi Zhao
Hi everyone! My name is Yi Zhao and I'm a graduate student of Harvard Graduate School of Education. My major is Language and Literacy and I am interested in language learning with a focus on the different social, cultural, and emotional contexts and individual differences. In my free time, I enjoy reading novels, travelling and listening to music! I am grateful to be a part of the UCLA Language Lab!
Rashell Khalfin
Hi! My name is Rashell Khalfin, I am a third year at UCLA studying sociology with a minor in education. I have known that I want to be a pediatric speech language pathologist since I was a sophomore in highschool, I absolutely adore children and feel like my heart is about to burst from happiness whenever I am around their infectious positive energy. My interest in speech language pathology has also prompted me to learn American Sign Language here at UCLA and my intent is to become fluent!  I have been a competitive ballroom dancer since I was 5 years old, so during my free time I love to dance. I also love to read, hang out with my sister who is the best person in the world, and of course be around children. I have joined several organizations on campus that work directly with kids and I can say without a doubt that being a part of these organizations has been the highlight of my UCLA experience.
Alexis Burke
Hello! My name is Alexis Burke. I'm a third-year undergraduate student at Scripps College majoring in Linguistics and minoring in Psychology. I am passionate about language acquisition, phonetics, and sociolinguistics, and I am interested in the intersection of language and gender. I also love learning new languages, and right now I'm learning Scottish Gaelic! Outside of my studies, I enjoy singing and arranging music, and I love baking different desserts! After my undergraduate degree, I hope to spend time teaching English abroad and eventually go on to earn a PhD in Linguistics.
Jaehyuk Im
Hi! My name is Jaehyuk Im. I am a fourth-year undergraduate student majoring in applied linguistics at UCLA. I love working with children, and my research interest is on interactional sociolinguistics and second language acquisition. After graduating from UCLA, I plan to pursue graduate school in sociolinguistics. In my free time, I enjoy reading books, watching movies, and playing the bass guitar.

Yan Li
Hello! My name is Yan Li and I'm a graduate student from the School of Education at the University of Manchester. I majored in Digital Technology, Communication and Education during my postgraduate time, and in English Linguistic Stream during my undergraduate time. I really cherish this opportunity to join the UCLA Language Lab as a research assistant because I am keen on conducting research on language, information literacy and advanced digital technologies. In the future, I want to do more research on computational linguistics related areas and further my study to a higher degree. I like jogging and doing yoga when I am free, and I also like to try something new. I have ever been an exchange student in UCLA during my undergraduate time and I am really enjoy the life in LA!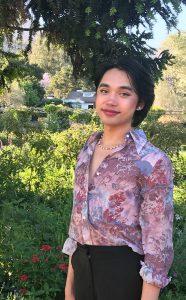 Matty Tran
Hello, my name is Matty and I am a fourth-year undergraduate student at UCLA majoring in Asian Languages and Linguistics and minoring in Digital Humanities! I am interested in computational linguistics and language pedagogy, and I am excited to be working in the language acquisition lab! I hope to continue my graduate studies in Human-Computer Interaction and Design, eventually working to develop meaningful and linguistically informed language technology! My free time is usually spent creating digital art, playing video games, and hiking.
Allison Truong
Hello! My name is Allison Truong, and I'm a third year undergraduate student at UCLA studying Sociology with a minor in Cognitive Science. My interests encompass conversational analysis and spoken interactions within social institutions. I have a passion for people and the institutions we encounter every day, thus in this future I hope to incorporate my skills and passions onto a team whether in business or tech. In my free time I love to hike, try new restaurants, and find new hobbies including teaching myself piano and guitar.
Meera Suresh
Hi! My name is Meera Suresh and I am a sophomore majoring in Molecular, Cell, and Developmental Biology and minoring in Biomedical Research. My future plans include attending graduate school for an MD-PhD degree to pursue a career in clinical research. In my free time, I love dancing, reading, and hiking, and I'm so grateful to be a part of the UCLA Language Lab!
Anika Vaishampayan
Hi! My name is Anika Vaishampayan and I am a third year undergraduate student at UCLA pursuing a degree in Cognitive Science with a Specialization in Computing. My research interests include socio-communicative deficits in children diagnosed with autism spectrum disorder, acquired neurological disorders, and secondary language acquisition. Post-graduation, my dream is to pursue a doctorate degree, become a licensed neuropsychologist, and work with underserved children in a clinical capacity. In my free time, I enjoy visiting libraries and bookshops, cooking a variety of cuisines, hiking and playing fetch with my sweet pup Mylo, and binge watching Netflix.