¡Bienvenido al Laboratorio de Idiomas!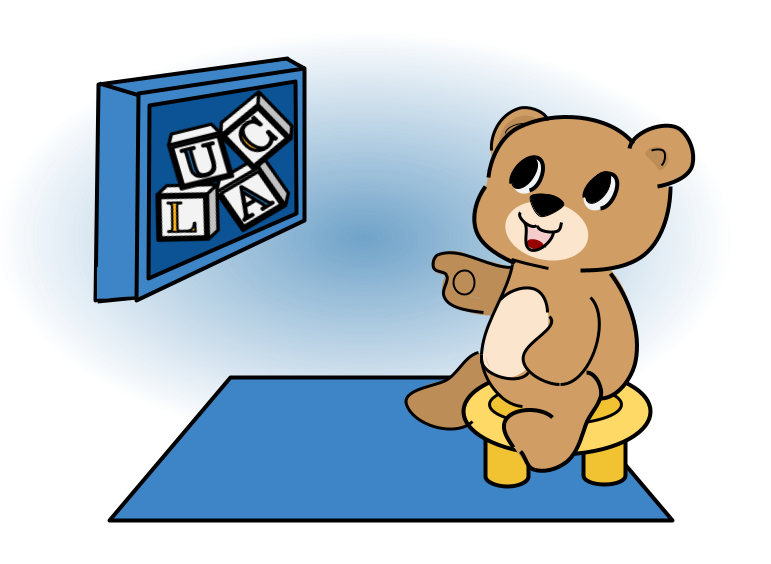 Estudiamos cómo los bebés sintonizan con sus lenguas maternas y cómo acaban desarrollando reglas implícitas del lenguaje que les permiten comprender y producir frases gramaticales. Para ello, estudiamos las capacidades de percepción y producción del lenguaje en bebés, niños pequeños y niños de corta edad.
News
September 2023
Megha Sundara's research was featured on the Weekly Dose of Wonders on NPR's All Things Considered.
Read here
September 2023
Our lab members Katya Khlystova (grad student), Adam Chong (alumni), and Megha Sundara (PI) have published a new paper titled Phonetic variation in English infant-directed speech: A large-scale corpus analysis on Journal of Phonetics. Congratulations!
July 2023
Three talks by Megha Sundara in Paris
This month, the Laboratoire de Sciences Cognitives et Psycholinguistique, part of the École Normale Supérieure, hosts Megha Sundara as an invited speaker for three talks. She is presenting recent experimental and computational word on infants' acquisition of a wide range of phenomena: phonological, morphological, and syntactic.
Sundara, M. (2023). The emergence of grammatical class in infancy. Language Team Meeting, Laboratoire de Sciences Cognitives et Psycholinguistique, École Normale Supérieure, Paris
Sundara, M. (2023).How infants discover morphological suffixes and use them to discover phonemes: Experimental and Computational findings. Linguae Seminar, Laboratoire de Sciences Cognitives et Psycholinguistique, École Normale Supérieure, Paris
Sundara, M. (2023).What do infants know about permissible sound sequences of their native language. Plenary meeting, Laboratoire de Sciences Cognitives et Psycholinguistique, École Normale Supérieure, Paris
July 2023
Our lab has been featured on an NPR science podcast Short Wave. Click here to check it out!
In this podcast episode, Why Babies Babble And What It Can Teach Adults About Language, we metaphorically enter the UCLA Language Acquisition Lab's recording castle, guided by linguistics researcher Dr. Megha Sundara. NPR science correspondent Sydney Lupkin temporarily takes over the host chair to talk to Sundara about all things baby babble. Along the way, we learn why babies babble, how that babbling can change with exposure to new languages — and if there are any lessons for adults.
July 2023
NSF support for Katya Khlystova
Big congratulations to PhD student Katya Khlystova, and advisor Laurel Perkins, for earning a Doctoral Dissertation Research Improvement Grant from the National Science Foundation. Katya's project, "Computational Investigation of Extralinguistic Cognition in Developmental Parsing," uses computational methods to model how developing working memory, cognitive control, and linguistic knowledge interact to influence children's sentence processing. A full abstract can be found here.
June 2023
Laurel Perkins, Tim Hunter, and Shalinee Maitra presenting at SCiL 2023
The 6th Meeting of the Society for Computation in Linguistics (SCiL 2023), this year at the University of Massachusetts Amherst, features computational work by Laurel Perkins in collaboration with Tim Hunter (UCLA) and recent undergraduate student Shalinee Maitra (B.A. Linguistics and Computer Science, 2022).
June 2023
UCLA contributors to the Oxford Handbook of Experimental Syntax
The newly-published Oxford Handbook of Experimental Syntax, edited by Jon Sprouse, includes chapters on Behavioral Acquisition Methods with Infants by Laurel Perkins and collaborator Jeffrey Lidz (University of Maryland), and Formal Methods in Syntax by collaborator Tim Hunter (UCLA). The volume surveys a wide range of experimental and computational methods in the study of syntax writ large, including in language acquisition, psycholinguistics, and formal language theory.
April 2023
Megha Sundara speaking at NYU
This April, Megha Sundara gives an invited talk in New York University's Linguistics Department, on her recent work on early phonotactic, morphological, and word class acquisition in infancy.
Sundara, M., (2023)Infant acquisition: From phonotactics, through morphology to word class. NYU Linguistics Colloquium
January 2023
Victoria Mateu, Minqi Liu, Laurel Perkins, and Nina Hyams presenting at the 2023 LSA Meeting
The 97th Annual Meeting of the Linguistics Society of America in Denver, Colorado includes work by Victoria Mateu, Laurel Perkins, and Nina Hyams on children's verb learning in Spanish and work by Minqi Liu, Victoria Mateu, and Nina Hyams on children's acquisition of passives in Mandarin.